2014 Tour Week 3
It was start
ing to get cold in Wisconsin this week with our car being a little iced up in the morning. But we haven't seen any snow yet. Our first stop in the cheese state was Downtown Mission Church in Wausau with Ps Charlie Salamone. I remember vividly our stop there last year when the church was in a small café styled venue, and it was jam-packed. This year the church has purchased and moved into an old iconic theatre just around the corner where we had a great time meeting a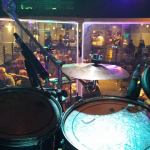 nd encouraging the worship team last Wednesday night. On Thursday morning we met Debbie who owns Dayspring Health Spa and she generously sent the entire band in for massages… What a blessing!! That night we were so ready for an amazing worship encounter. Just like last year we had Andrew running out the door and singing God's Great Dance Floor on the street. The night ended with 30 people coming forward to receive the baptism of the Holy Spirit.

Next stop was Northridge church in Abbotsford, the home church of our good friends Josh & Erica Haines and Josh's parents Brian & Charlotte. Josh & Erica had just celebrated their 1st wedding anniversary so I pulled them up to honor them as Deano presented them with a gift. Erica unwrapped the baby sized Packers jersey as the church family laughed. At that point I got Josh to announce that they're expecting a child.
[embedyt]http://youtu.be/bN7GuhyIlR8[/embedyt]
The night turned to be a massive dance party with everyone in the building absolutely going for it. Joel stepped out at the end of the service to take the altar call and we saw 4 people respond to accept Jesus into their hearts. It was so great to hang out with Josh and Erica again, even if it was only for a short time. I'm so looking forward to meeting their new baby next year.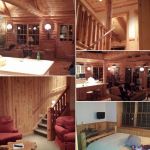 It was a 5 AM 0° C start the next morning as we drove to Park Falls, WI to be with Ps Terry & Rachel Wilson. The full day regional training seminar was so well received by all that attended. We started the day off with a practical sound session followed by Andrew demonstrating how he used the harp, Native American flute and keyboard with MainStage in worship. During the breakout sessions I got to meet Jessica, a great young guitarist, and show her an array of new chords shapes in different keys. She picked up on it so quickly and it was great jamming at the end of the session. During a powerful time of praise and worship in the Sunday morning service a gentleman in the crowd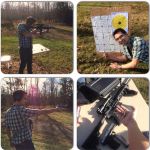 was showing the Ps Terry the healing he received in his leg. He was just healed in the service as the presence of God washed over him!
I got to try out the direct recording through the Digico's MADI output to grab Andrew's new message on living out the word of God. The recording worked seamlessly and at the end of the message I armed all the tracks for recording to catch our last song. After a huge spread for lunch, Hughie (our new singing friend) treated us to some gun shooting accompanied by some truly shocking Vietnam War stories about his troop travelling in LV Lonely.
After the weekend rolled by we got some practice in on Monday morning and learned The Way by Worship Central. I'm really looking forward to being able do this song on tour because of its simple truth and the magnificent sounds I've been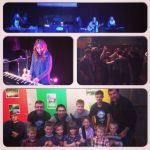 able to program using Omnisphere. We packed up and made our way to stay with Andrew's friend Ps Matthew Mallek and his family in Stevens Point. It has been such a privilege staying in his beautiful home by the lake and getting to know his family and church community Good News Fellowship. We were invited to go into the school and talk about discipleship with both the high school group and the bible college interns. And today spoke at a chapel service this morning with the whole school and also spoke at the youth service tonight. What a privilege to be able to share part of the "journey" tonight and see young people released into the fullness of love that God has for them.
This week's time in Wisconsin has been an uplifting time for the people but also for us as a ministry team. As we have taken the time to hear each other's stories and hearts, we are growing stronger together not only as musos but mates. Thanks to Andrew for bringing us all together and helping us be better communicators for the benefit of others. After meeting some truly gifted and amazing people this week, I'm now looking forward now to seeing some familiar faces in Michigan and Ohio over this coming week!
Chris
29 October 2014